Corsets, corselettes and slips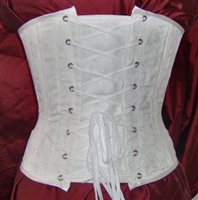 Included in this section is a range of corsetry and slips. These items may have features such as non-standard sizing, front fastenings, or be made from absorbent materials suitable for incontinence. Some of these items may be made-to-measure.
Corselettes are all-in-one garments incorporating bust and abdominal support, whereas corsets provide abdominal support only. Both usually have suspenders attached at the front, side and/or back. Back suspenders can be moved to the side of the garment you have reduced sensation to your skin, to help reduce the risk of pressure ulcers.
Corsets and corselettes come in various lengths, and come with a variety of fastenings. They can be roll-on, fastened with zips, hook and eyes, and some include a lace fastening. Side or front fastenings may be easier to use than back fastenings. Styles that open fully may be easier to put on, especially while lying down.