Equipment to fasten footwear and lace locks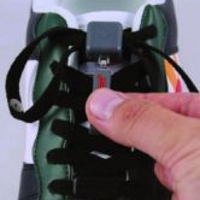 The products listed in this section are designed to enable shoes to be fastened and unfastened independently if you have reduced dexterity or strength in your hands, or the use of only one hand.
Lace locks eliminate the need to tie shoelaces. They are usually slid onto laces to tighten them, and are released by pinching the buttons on either side (Disabled Living Foundation, 2008).
If you have difficulty fastening laces, you may also wish to consider elastic laces, which can be used to convert lace-up shoes to slip-ons (Disabled Living Foundation, 2008).