Extra wide, non-elasticated top, seamless and gel socks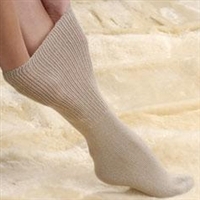 Included in this section are socks that may be suitable if you have sensitive skin or circulation problems. The socks listed here may be extra wide, seamless or have non-elasticated tops. Some of the socks listed also have a gel sole which may provide additional cushioning.
Compression socks are not included in this section. It is important that compression hosiery is fitted or prescribed by practitioners trained to offer guidance on the wearing of compression hosiery. Contact your GP for further advice regarding compression hosiery.