Mens and womens non-standard sized footwear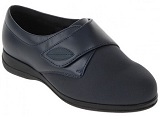 In this section you will find non-standard sized footwear for men and women. For example extra wide footwear is included. This may assist you if you have arthritis or swelling in your feet.
Some suppliers of this footwear offer adaptations or a made-to-measure service if you have specific requirements for your footwear.