Tights, stockings and hold ups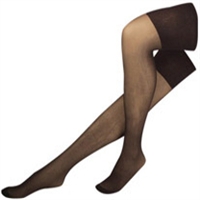 This section includes a range of tights and stockings available in larger sizes or with non-standard features. This may include:
Hold-up stockings which are larger than standard and may not be as tight round the thigh, calf or ankle,
Open-crotch tights, which may be easier to manage for women who need to self-catheterise,
Socks without toe seams, to help stop rubbing on sensitive feet.
Compression hosiery is not included in this section. It is important that compression hosiery is fitted or prescribed by practitioners trained to offer guidance on the wearing of compression hosiery. Contact your GP for further advice regarding compression hosiery.