Automatic phone dialling alarms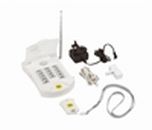 These auto diallers usually come with a pendant alarm button which, if activated, will trigger the base unit to phone a short sequence of telephone numbers.
Thus you could set up the unit to automatically phone a relative if you press the pendant's button, and if they don't answer it could automatically phone your neighbour. They would hear a message that you had pre-recorded, such as a request to come round and provide assistance.
However, these systems have significant differences to telecare careline systems and may not meet Class 1 requirements.