Telephones with built-in inductive coupler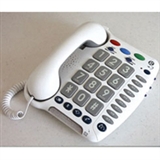 Telephones in this section have an integral inductive coupler for use with hearing aids when the aid is switched to the 'T' (telecoil) setting. This may make the caller's voice clearer for hearing aid users. When a hearing aid is switched to the 'T' setting its microphones are turned off and only the signal from the earpiece is amplified by the hearing aid (British Telecommunications Plc, 2009).
Many telephones available on the high street have integral inductive couplers, the phones in this section should also have additional features to enhance ease of use such as large buttons or amplified sound.