Telephones with photo or picture buttons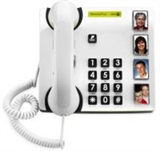 Telephones with enlarged keys designed to accommodate photos or pictures. Keys are pre-programmed for one-touch dialling of pre-programmed telephone numbers associated with the photo/pictures. The photos may remind the user which button corresponds to which person.
Also included are independent units which can be attached to standard telephones to provide the above facility and telephones which automatically dial one number when the handset is picked up.
Some of the items in this section are available to borrow for free for two weeks in certain areas of the United Kingdom.

If you would like to have a look at our library content, please click this link to be taken through to the Library site.