Photophone155 Photo Id Amplified Telephone With Answering Machine And Talking Caller Id
Manufactured by Geemarc Telecom S A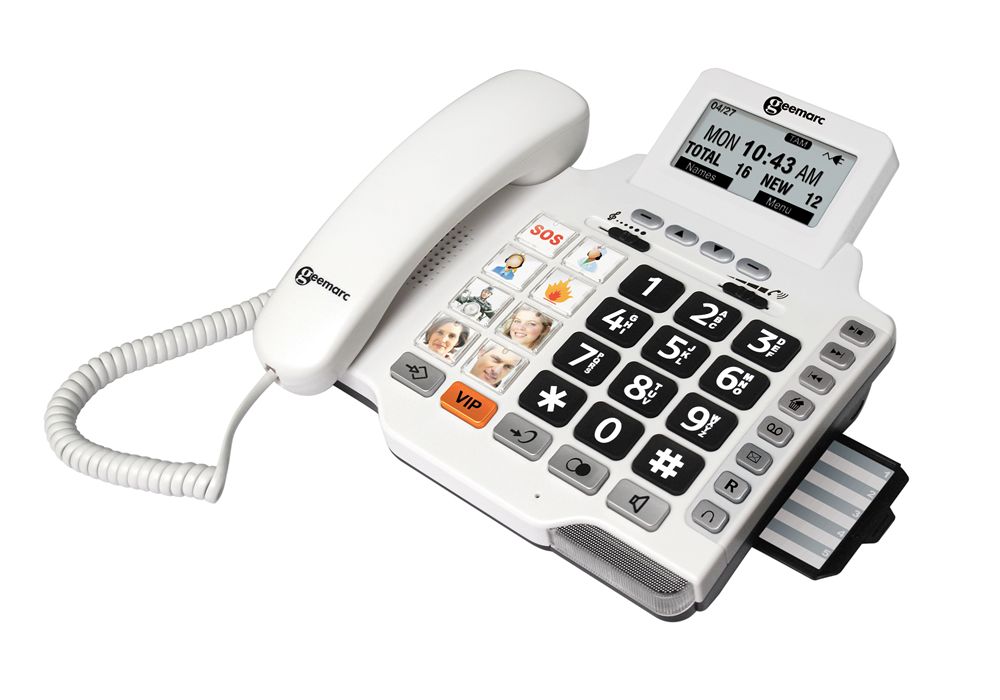 DLF's summary
Amplified photo phone with answering machine.
Features
adjustable receiving volume and tone control
amplified speaker phone
loud ring with visual ringer indicator
eight photo buttons, two additional direct memories
talking keypad - speaks the numbers dialled
talking caller ID, talking phonebook with up to 39 names and numbers
large backlit display
answering machine with remote message retrieval
wall mountable
Accessories
vibrating shaker which activates when phone rings
hearing neckloop
Product dimensions
Volume control
Tone or volume
Both
Telephone type
Hands-free
Standard
Telephone
Inductive coupler for use with hearing aids
Yes
Maximum ringer volume (dB)
90dB
Speech amplification
Loudspeaker / speakerphone
Standard
Maximum handset volume (dB)
112dB
Headset socket
Standard
Incoming or outgoing speech
Incoming speech
Dialling
LCD display
Standard
How many quick dial memory buttons
10
Large button keypad
Standard
Call indicators
Visual indicator
Indicator light
Where can I buy this product?
The UK national suppliers that sell this item are listed below.
X
Supplier details
Head office
Sales Liaison Office
5b Swallow Court
Swallowfields Welwyn Garden City
Hertfordshire
AL7 1SB
UK

Supplier details last checked:
04 January 2017,

Next check due:
04-01-2019
Geemarc Telecom S A
's name for this product is
Photophone155 Photo Id Amplified Telephone With Answering Machine And Talking Caller Id
Their product code is:
PHOTOPH155
POA
Checked by DLF on 04 January 2017
National suppliers (Explain)
The following suppliers have not updated their product details for over two years. We list the last price they entered but provide less information on them. These records will be removed after three years. They can update their records using our self-service system.
| Supplier name | Guide price | Last updated |
| --- | --- | --- |
If you are one of the suppliers listed here, and don't know how to update your product information please contact our Data Services team to find out how to update your information.
Manufacturer's contact
Geemarc Telecom S A
Sales Liaison Office
5b Swallow Court
Swallowfields
Welwyn Garden City
Hertfordshire
AL7 1SB
UK
01707 387604
sales@geemarc.com
http://www.geemarc.com
Manufacturer's product description
Amplified Photo Phone with Answering Machine The top-end answer to all your telephone needs! Product Features: Adjustable receiving volume (up to 30dB) Adjustable receiving tone control (up to 10dB) Handsfree Amplified Speaker Phone Extra Loud Ring Visual Ringer Indicator 8 large customisable photo buttons 2 additional direct memories Talking Keypad Talking Caller ID Talking Phonebook with up to 39 names and numbers Large backlit display Clock Answering Machine with up to 15 minutes of recording time Default announcement that can be replaced by your own announcement Remote message retrieval Toll saver feature Wall mountable