Angled and swivel cutlery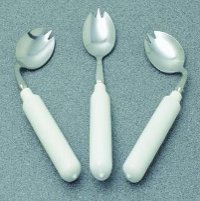 Listed here is a variety of angled and swivel cutlery. Angled cutlery, with the utensil head positioned at an angle to the handle, may compensate for restricted movement at the shoulder, elbow or wrist. Some cutlery has a fixed angled head or handle, while others may have adjustable shafts or handles that can be changed by remoulding or with separate components.
Swivel cutlery has a pivoting joint between the head and the handle, helping to keep the head horizontal as you bring it to your mouth. The range of movement can be restricted using 'stops'.