Bowls & plates with partitions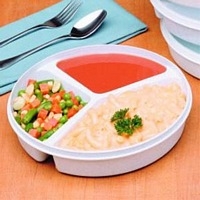 Crockery in this section is partitioned so that food stays separated within the bowl or on the plate. Some of these items also have a slip resistant base or features that help keep food warm.
Partitioned plates and bowls provide a wall to push food against to help load it onto a spoon or fork, which can be helpful for one-handed eating.
Plateguards or plates and bowls with high sides can be considered as alternatives to plates and bowls with partitions.