Plastic cups with lids and handles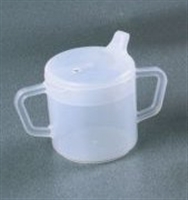 Listed here are cups made from plastic, with lids and handles. Some products feature detachable handles, or may also have two handles. Some points to consider include:
two handles allow the weight to be evenly distributed when you hold the cup;
a moulded handle, or one with a slip-resistant surface, may be more comfortable to hold and help with grip;
if a lightweight cup is needed, modern picnicware which can be lightweight, unbreakable and contemporary in design.
You may also need to check that lids with spouts are suitable for left and/or right handed use.