Coin & note holders or detectors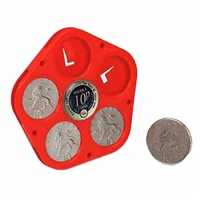 This section includes equipment to help store and identify notes or coins. Coin holders may assist in the handling of coins if you have limited dexterity or movement in your hands and fingers. A money gauge may help you to identify different bank notes and coins if you are blind or partially sighted.1,2 Electronic note detectors which vibrate a certain number of times to indicate a bank note's value (for example three vibrations may indicate a �20 note) are also included.
Some of the items in this section are available to borrow for free for two weeks in certain areas of the United Kingdom.

You can browse through our library catalogue here.