Kitchen and perching stools for bariatric use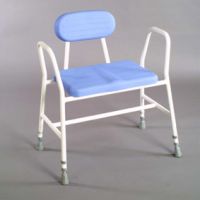 Included in this section are perching stools with a maximum weight-bearing capacity of 190kg and above. Perching stools, as their name suggests, position the user in a semi-standing position. They have a sloping angled seat and are suitable for people who can take some of their weight through their legs. Because of this semi-standing position less leg room is needed, which can enable a user to get closer to certain work surfaces.
Perching stools are usually height adjustable and have a variety of support, depending on the type of backrest and armrests. The armrests can help with getting up from sitting. If a person has a short lower leg length, check the lowest height of the stool to ensure it is not too high.
Perching stools can be very helpful in conserving energy and maintaining independence. They do take up space, so storage needs to be considered if they cannot stay in situ.