Pick up and reaching equipment with pistol style trigger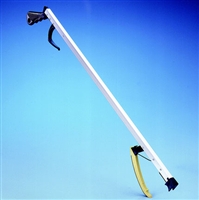 The reachers in this section are operated by pulling a pistol-like trigger, using one or two fingers. These reachers are generally designed to be used with one hand.
If you have difficulty using one or two fingers to grip, you may find it more comfortable to use a reacher with a squeeze grip. This style provides a larger grip and allows you to use your whole hand to grip the handle, which can be useful if you experience pain or stiffness in your hands and/or fingers (National Ag Safety Database, 2005).