Pick up and reaching equipment with squeeze grip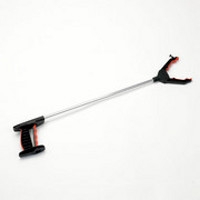 In this section you will find information on reachers with a squeeze style trigger mechanism. They are used by placing all your fingers around the handle and trigger mechanism, then squeezing it inwards towards the handle and the palm of your hand.
This style of handle may be easier to operate than a pistol style trigger if you have pain or stiffness in the joints of your hands and fingers, as it provides a larger grip size which can help to protect your joints (National Ag Safety Database, 2005).