Non-standard remote controls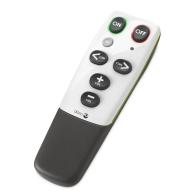 This section includes a range of replacement remote controls with features that may help enhance ease of use such as large buttons, speech output or switch operation. Depending on the model the remote control may work with televisions, video recorders, satellite TV, DVD players, or audio equipment. Most will not work with combination devices, e.g.TV/DVD combination units.
Some of the items in this section are available to borrow for free for two weeks in certain areas of the United Kingdom.

If you would like to have a look at our library content, please click this link to be taken through to the Library site.