Raised beds, containers and hanging baskets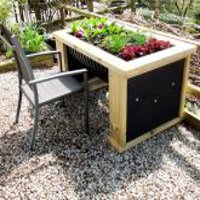 This section includes a range of raised beds, standing containers and hanging baskets with features which may enhance their ease of use, such as integral watering systems.
Some of these raised beds are fully assembled on purchase, others will require construction on site.
General benefits of raised beds and planters include: they can be reached easily from the path without stretching, soil is not compacted making it easier to manage, you have control over the soil so you can put in plants or vegetables that might not naturally flourish in your local soil. Its worth checking out how much soil is required before purchase as this varies considerably.