Safety alarms and pagers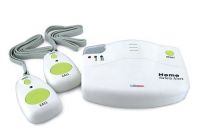 This section has a variety of systems which can allow people to be able to contact a live-in carer/spouse or next door neighbour for help via a pendant and pager system, and also contains alarm systems which can notify live-in carers of people with memory difficulties that they may be walking off to places which could put them at risk. It could be they are at risk of falling on the stairs in their house when it's dark but tend to head there if they wake up in the middle of the night, or it could be they are at risk of wandering from their house without being able to find their way home again.
Although simple to use, such technology can prove very reassuring to carers who might otherwise spend a lot of time and energy worrying whether their loved ones are safe. These devices usually consist of sensors which alert the carers when the agreed boundaries are crossed.