Non-standard ferrules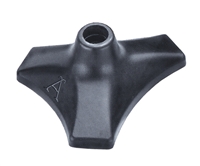 In this section are non-standard ferrules including pivoting and shock-absorbing ferrules.
Pivoting ferrules have a large swivel base which enable walking sticks or crutches to maintain full contact with the ground when used at an angle or on uneven surfaces.
Shock absorbing ferrules may be appropriate if you use your walking stick or crutches full-time.