Tyres and accessories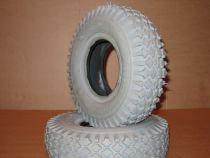 Included in this section are items for the maintenance of scooters & buggies.
Tyres
Inner tubes
repair kits
pumps
The sealants are mainly liquid or gel, supplied in bottles, tubes or containers and are injected into the tyre as a temporary repair until permanent repair can be made.
Pumps are to replace low air pressure in tyres and may be foot, hand or electronically operated.