Walking sticks with anatomically contoured handgrip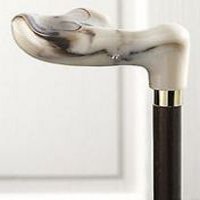 These metal and wooden walking sticks have anatomically shaped handles designed to spread your weight over a wider area of your hand. They are specifically designed for left or right handed use.
These sticks may be more comfortable if you use a walking stick everyday or if you have painful hands.
There is a range of traditional & contemporary walking sticks in this section, combining elegance and style.