Wheeled forearm walkers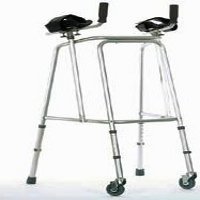 Included in this section are wheeled walkers with three and four-point bases. These walkers have padded forearm troughs or gutters and vertical hand grips which allow you to bear some of your weight through your forearms rather than your hands.
The length and angle of the hand grips may be adjusted to enable you to achieve a comfortable position. Alternatively, some walkers have a platform, rather than individual supports to rest your forearms.