Compression stocking aids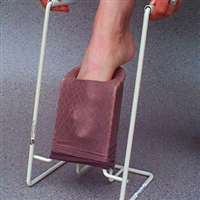 Compression stockings are usually prescribed by a doctor or health care professional. They are designed to help manage conditions such as leg ulcers and oedema (swelling) by applying pressure to the leg to increase circulation. They can, however, be difficult to put on as they require a lot of hand and arm strength to stretch over your foot and leg (Dilks and Green, 2005).
The equipment listed in this section may assist you if you have difficulty bending forward to put on compression or support stockings, or stretching them to put over your legs (DLF, 2008), (Dilks and Green, 2005).
Also included in this section is equipment designed to assist with removing compression stockings.