Dressing sticks and other dressing equipment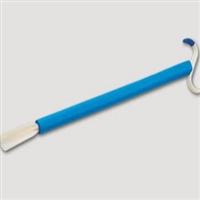 Included in this section are dressing sticks and other equipment designed to assist with a range of dressing tasks.
A dressing stick usually consists of a wooden or plastic handle with a hook at the end. They may be used to assist with tasks such as:
Bringing clothes around, or pushing them off your shoulders;
pulling up zips;
tightening or loosening shoelaces;
Pushing down trousers, underwear or stockings
Pulling up straps
You may find a dressing stick useful if you have pain or stiffness in your shoulders or arms, or have use of only one arm (DLF, 2008).
Other equipment listed in this section may assist with other dressing tasks such as putting on a bra, or pulling up trousers or underpants.