Pivotell Advance Gsm Automatic Pill Dispenser With Text Messaging
Manufactured by Pivotell Ltd
Priced from
£165
(Exc. VAT)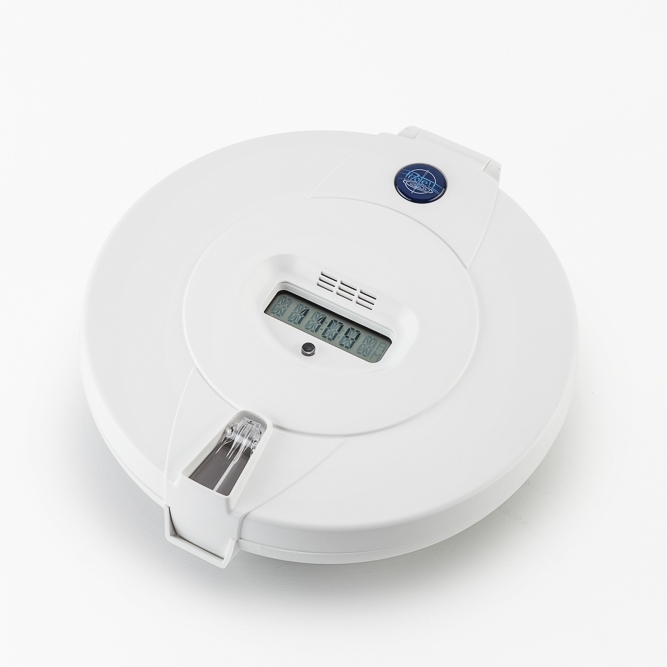 DLF's summary
Battery operated pill timer dispenser with text and email notification. Spare internal cassettes are available for pre-filling by carers or a pharmacist. Refill frequency will depend upon the number of daily medications doses required: once a day medication requires refill every 28 days, twice a day medication requires refill every 14 days, four times a day medication requires refill every seven days.
Features
internal tray containing 29 sections
tray rotates at preset times to dispense medication and sound alarm
alarm continues for up to 60 minutes or until the dispenser is tilted tipping the dose out of the appropriate section
notifies up to three family members, friends or carers by text or e-mail message if medication is not taken on time
circular plastic lid with lock
clock can be set to 12 or 24 hour display and is self adjusting for British Summer Time
low power indicator
optional integration with telecare careline systems
Accessories
tipper to assist with turning dispensor over to dispense medication
Product dimensions
Features
No. of compartments
29
Where can I buy this product?
The UK national suppliers that sell this item are listed below.
Mail order
Online shop
X
Supplier details
Head office
Saffron Walden
Essex
CB11 4WX
UK
PO Box 108
Supplier details last checked:
19 December 2017,

Next check due:
19-12-2019
Pivotell Ltd
's name for this product is
Pivotell Advance Gsm Automatic Pill Dispenser With Text Messaging
Their product code is:
3110
From

£165

Exc. VAT
Checked by DLF on 19 December 2017
National suppliers (Explain)
The following suppliers have not updated their product details for over two years. We list the last price they entered but provide less information on them. These records will be removed after three years. They can update their records using our self-service system.
| Supplier name | Guide price | Last updated |
| --- | --- | --- |
If you are one of the suppliers listed here, and don't know how to update your product information please contact our Data Services team to find out how to update your information.
Manufacturer's contact
Manufacturer's product description
The Pivotell Advance GSM dispenser includes all of the enhanced security and display features of the Pivotell Advance dispenser and a GSM module which transmits text messages to up to three designated contacts (typically family members) and an e-mail if medication has not been dispensed from the device at the medication time. This enables appropriate action to be taken to check on the wellbeing of the individual before a potentially adverse event occurs.

It can be easily filled and programmed by the user, relative, carer or pharmacist to dispense pills up to 24 times a day. At the pre-programmed times, the dispenser rotates, the alarm signal is heard, and the correct dosage comes into view through the opening in the lid. The alarm can be programmed to ring for up to 5 hours.