Sock aids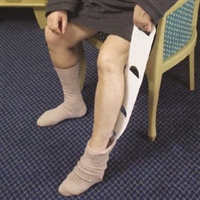 A sock aid may assist you if you have difficulty bending forward to put your socks on. There are flexible and rigid styles available, and some are floor standing (Dilks and Green, 2005).
A flexible sock aid is cone shaped and is made of plastic or fabric, usually with two holes at the top where tapes or ropes are attached, or notches at different heights to act as handles. Rigid sock aids are made from a plastic semi-circular tube with a long handle or two tapes or ribbons attached. Floor standing sock aids usually consist of an plastic coated frame, some have handles (Dilks and Green, 2005), (DLF, 2008).
Most stocking aids may also be used to put socks on, some are listed in this section.
Aids to assist with removing socks are also included in this section.