Toiletry, cosmetic and jewellery applications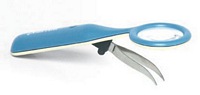 Items in this section facilitate the application of cosmetics, lotions, hair dressings and jewellery.
Some are long-handled which make it easier to reach the feet or back to apply lotion. Other items make fine activities like using tweezers easier. Some of the products may assist blind or partially-sighted users through increased magnification.