Timmy Care Cot
Manufactured by Theraposture Ltd
Priced from
£2,075
(Exc. VAT)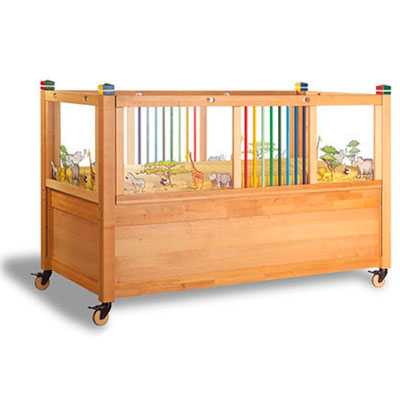 DLF's summary
Wooden cot with range of sleeping platforms available.
Features
wooden frame
four braked castors
handheld controls
adjustable height, multi-adjustable bed frame
four individually adjustable drop down sides
cot sides can be fully closed, half lowered or fully lowered
Options
coloured rails and motifs
can be made-to-measure
powered sides
powered height adjustment and tilt
choice of two rail heights
sides can comprise a combination of beech rails and transparent acrylic panels
Watch a video
Product dimensions
Height Adjustment
Electric
Option
Frame
Mobile
Standard
Dimensions
Length
140; 170 ; 200cm
Width
70; 90; 100cm
Capacity
150kg
Mattress platform height
with mattress 62-102, 80-120cm
Where can I buy this product?
The UK national suppliers that sell this item are listed below.
Show room
Home demo
Online shop
X
Supplier details
Head office
Kingdom Avenue
Northacre Industrial Park
Westbury
Wiltshire
BA13 4WE
UK

Supplier details last checked:
01 November 2017,

Next check due:
01-11-2019
Theraposture Ltd
's name for this product is
Timmy Care Cot
From

£2,075

Exc. VAT
Checked by DLF on 01 November 2017
National suppliers (Explain)
The following suppliers have not updated their product details for over two years. We list the last price they entered but provide less information on them. These records will be removed after three years. They can update their records using our self-service system.
| Supplier name | Guide price | Last updated |
| --- | --- | --- |
If you are one of the suppliers listed here, and don't know how to update your product information please contact our Data Services team to find out how to update your information.
Manufacturer's contact
Theraposture Ltd
Kingdom Avenue
Northacre Industrial Park
Westbury
Wiltshire
BA13 4WE
UK
0800 834654
info@theraposture.co.uk
http://www.theraposture.co.uk
Manufacturer's product description
The Timmy cot is ideal for children with restricted mobility or disabilities who cannot sit up on their own. This powered, height adjustable and profiling care cot is well suited for nursing children who for example need artificial respiration and feeding. There are two versions of the Timmy that provide either 43 cm or 65 cm high lattices and all four sides can be lowered to varying levels which enables care procedures from the head and foot ends. The Timmy can be decorated with bright animal motifs printed on the plexiglass panels, which enhance a child's acceptance of the bed and promote visual perception and imaginative thought. Two removable posts (optional) make the Timmy suitable as a therapy surface and powered height adjustment enables therapists/parents to administer care at the correct working height.

- Four bed sizes: 70x140 cm, 90x170 cm, 90x200 cm, 100x200 cm
- Simple handling with four, easy-to-use drop side lattices allowing access from all sides
- Sleeping platform height adjustment from 80-120 cm or 62-102 cm (top edge of mattress)
- Can be combined individually with different sleeping platforms
- Reliable, safe mechanism to adjust therapy and care-level to a safe working height
- Versatile and manoeuvrable with high castors which provide hoist access
- Side lattices secured with locking pins
- Sweat and saliva resistant wood, in accordance with DIN 71-3 (Children's Toys Safety Act)
- Beautifully finished in solid wood that is aesthetically pleasing and calming for the child
- User weight capacity of up to 150 kg
- Functional, safe accessories are available


THERAPOSTURE ADULT AND PAEDIATRIC CARE COTS

Theraposture provides a unique, niche service which designs, handcrafts and installs electrically operated adult and paediatric care cots that are individually specified to client's personal needs. Theraposture is chosen by healthcare professionals, charities and individuals who want to ensure that the safest assistive cot is in place which also looks at home in a domestic home. It is the market-leading supplier and provides the widest range of care cots that includes the Mascot, Olaf, Timmy, Lotte and Hannah.

The Theraposture 14 day Suitability Guarantee is provided with the purpose of giving 100% confidence to all prospective owners and clients so they are assured of the perfect solution every time. By working with Theraposture a free of charge home assessment service is included with a product demonstration. This is a vital part of our process in determining the best solution for the intended user. Our highly experienced Trusted Assessors working with a Healthcare Professional will help to identify and understand the needs, wants and risks for each user. This process results in an assessment report that determines the correct prescription and provides a useful record and justification for the recommended cot bed.