Riser cushion with manual operation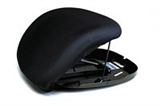 Manual riser cushions listed in this section are intended to assist you when rising from a chair. They generally rise by tilting at an angle to assist with standing up from a chair. These manual riser cushions generally operate by means of a piston which can be set to different strengths depending on your weight.
The cushion material and price varies on the level of comfort. Some have pressure relieving properties.