Video magnifiers - require connection to TV or PC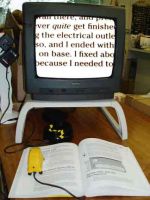 This section includes video magnifier systems which provide a magnified image when connected to a television or PC screen. They may consist of a handheld camera, similar in shape to a computer mouse, that rests on the original image and can be moved across the paper or object, or may be mounted resembling a desktop lamp with a head which contains the camera and can be angled to focus on the document.
Some of the items in this section are available to borrow for free for two weeks in certain areas of the United Kingdom.

If you would like to have a look at our library content, please click this link to be taken through to the Library site.