Electric page turners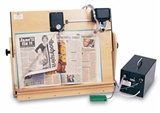 Electric page turners may be useful if you are unable to turn the pages of a book, magazine or newspaper.
They are powered, fully automated devices which hold a book and turn the pages when switches are activated. Some models can be used with a range of switches including pressure activated, sound activated, suck or blow operation.