Induction loop systems for installation in public buildings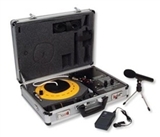 This section lists induction loop systems designed for use in public buildings, meeting rooms, conference centres and at counters e.g. in banks and post offices. The systems include a cable which is placed around the area in which guests/customers will be when listening to the transmitted sound. The loop transmits the sound to the user as a magnetic field which is received by hearing aids with a loop (T) setting.
If the user wears a hearing aid an induction loop may help them to hear sounds with more clarity and reduce the effect of background noise. As the user is not wired to any device they can walk around and listen from anywhere within the loop.