Low friction rollers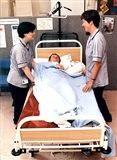 Low friction fabric rollers are similar to a cross section of a sleeping bag, open at both ends. They are made of very low friction material, making the interior of the roller slippery to facilitate movement. Some are padded.
The roller is placed across the bed and under the user who is lying flat on the bed, with the open ends facing the head and feet. Once positioned, some users find they can then turn independently. Alternatively, carers can assist the user by pulling on the top layer of the roller.