Rollators for heavy duty use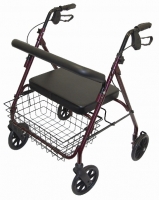 Heavy duty rollator frames have a higher weight capacity than standard rollator frames. The frames in this section have a capacity of 190kg or above, and offer more stability than a standard frame.
When used appropriately under the guidance of a physiotherapist, this style of frame will allow you to adopt a more flowing walking pattern than a non-mobile walking frame.