Wheeled triangular walkers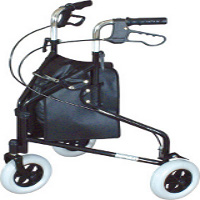 The frames in this section have adjustable height hand grips and can be folded. All have a single front castor and two rear wheels.
These frames commonly have either pressure or cable brakes.
Pressure brakes which are operated by downward pressure on the frame.
Cable brakes which are similar to bicycle brakes and require a squeeze action to operate them. Use of both your hands is necessary to operate these brakes.
Bags and baskets are available for use on some walkers but this may alter the balance of the walker and in some circumstances may make the equipment unstable.