Axilla crutches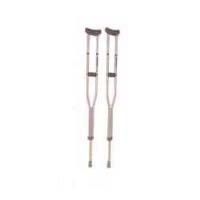 As a general rule, axilla or under arm crutches are used by people who cannot weight bear through their affected leg.
Axilla crutches may be single or double adjustable. Single adjustable crutches allow floor to handgrip height adjustment only.
On double adjustable crutches both floor to handgrip height and the distance between the handgrip and the axilla pad is adjustable.
The axilla crutches listed are made of aluminium.