Elbow crutches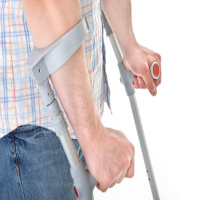 Elbow crutches are usually aluminium, with a cuff at the top to go around the forearm and usually prescribed for people with shorter-term needs.
Elbow crutches are used by slipping your arm into the cuff and holding the hand grip. The cuff is usually made of plastic and can be closed or a half-circle with a opening in the front, allowing the forearm to slip out in case of a fall. Many have a paint finish.
As a general rule, elbow crutches are used by people who can partially weight bear.
Both floor to handgrip height and the distance between the cuff and the handgrip are adjustable on double adjustable elbow crutches.
Single adjustable elbow crutches allow floor to handgrip height adjustment only.