Class 2 three-wheeled scooters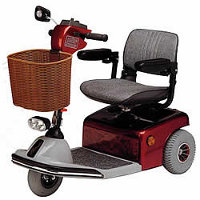 Included in this section are Class 2 scooters with three wheels. They travel up to 4mph and for use on pavements only.
Three wheeled scooters are not as stable as four wheeled scooters and are not suitable for road use or steep hills. However they are easier to manoeuvre, tend to be lighter, are better at negotiating tight turns and going through narrow spaces.
They will not usually have lights fitted, but may include accessories such as shopping baskets.