Mobile short rise lifts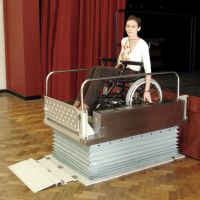 Mobile short rise lifts lifts can be moved between sites where a short rise lift is required or out of the way for users who prefer to use steps. Thus they may be useful for overcoming a small change in level which does not need to be accessed very often, e.g. into a garage, on to a stage.
When considering which lift, and which features, best suits your needs an individual assessment with an occupational therapist is strongly recommended.