Bread slicing or spread boards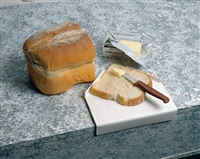 Bread cutting boards secure a loaf of bread and have one or more slots for a knife. The slots act as a knife guide, allowing you to cut bread or other types of food evenly - usually in a range of thicknesses.
The spread boards anchor to a table or work surface or are combined in a kitchen workstation. They have a raised 'L' shaped edge in one corner. They are made in a range of materials such as plastic, wood, and aluminium.