Food preparation and chopping boards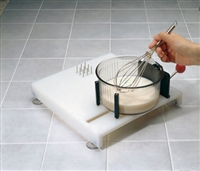 This section includes chopping boards and food preparation (sometimes called food workstations) boards.
The chopping boards included here have features such as colour contrast, spikes to secure food or a food collector. They are smaller than traditional chopping boards, with non-slip bases or suction pads for wet surfaces. Only some of the products are dishwasher safe.
Food preparation boards (pictured above) have a combination of the features above but usually include a flat or contoured clamp system to stabilise food, bottles and tins. Some also have the capacity to hold kitchen equipment.