Handheld peelers & mashers with enhanced grip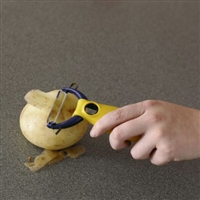 There are two main types of peelers listed here:
Swivel action peelers have a blade at the end of the handle (like a knife)
Y-shaped peelers have a blade perpendicular to the handle (pictured left). These also often have swivel blades and usually have built in potato eye removers.
Both types are readily available on the high street but the ones included here have features such as wide or padded handles which can enhance and facilitate grip.
Also included are potato mashers with enhanced grip. Using these can reduce the strength and effort required to mash potatoes.