Wall-mounted shower chairs and stretchers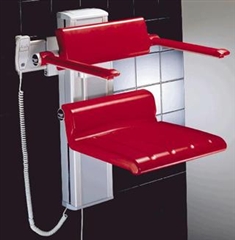 These chairs and stretchers fix to the wall, usually via hinged brackets. This means they can be folded up out of the way of other family members who want to use the shower.
Shower stretchers allow children to be showered lying down or in a reclined position at a good height for parents or caregivers. To view a larger range of wall mounted shower stretchers, see adult hinged shower stretchers and benches in the bathing section of Living made easy.