Trainer toilet seats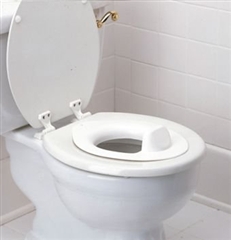 Trainer toilet seats reduce the toilet aperture size to give a more child-appropriate size. Many include a urine deflector (splash guard) for boys which can also be useful for keeping legs apart.
They are secured either by positioning them underneath the standard toilet seat, or they fit snugly into the toilet's aperture from above.
Toilet cushions can also reduce the size of the toilet aperture as well as provide comfort for children with sensitive skin. They should not be considered pressure reducing items.