Multi-function shower & commode chairs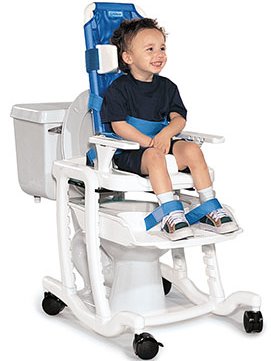 These chairs can be used in the shower and, because they have a commode aperture, also for toileting. This can be achieved either freestanding with a commode pan, or by wheeling over the toilet. This reduces the number of transfers that need to be made between the bed or wheelchair, toilet and shower. Self-propelling chairs (with large rear wheels) allow children to push themselves. Attendant chairs (with four small castors) are pushed by the parent or carer.
They generally have a range of supportive accessories including a pommel/splash guard, head and trunk supports, foot supports and safety belts and harnesses. A range have a reclining backrest or a tilt-in-space seat unit so that the child can sit in a semi-reclined or tilted-back position.