Baths with integral static seat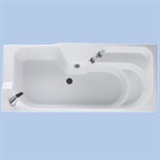 Baths which include an integrated seat.
These baths can be accessed independently if the person has good upper body strength or is using a ceiling track, mobile or fixed bath hoist.
Many of these baths have multiple features which can improve comfort and can be combined with shower units.