Beds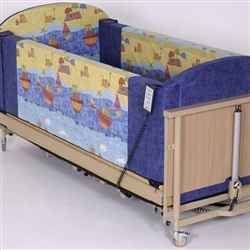 Included in this section are children's beds. They may have several of the following features:
Variable posture mattress platforms (sections in the base under the mattress which can hinge to form a backraise and/or a legraise).
Height adjustment.
Drop down or detachable safety sides.
Trendelenburg tilt (this feature allows the entire bed to be tilted towards the head).
Reverse Trendelenburg (tilted towards the feet).
Durability for challenging environments.
Made-to-measure service.