Wall-mounted bath boards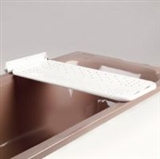 These bathboards are mounted to the wall beside the bath and can fold up against the wall when not in use. They provide a seated area over the bath which can provide a safer method of transfer in/out of the bath.
Wall-mounted bathboards can - in some instances - be the only type of bathboard which will fit a bath with irregular shaped sides or a side which is very narrow (perhaps due to tiling over the bath).