Transfer bath benches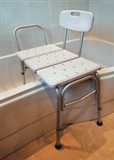 Transfer bath benches have a longer board than a standard bath board that extends over the outside bath rim over the floor. Cosequently you can sit on the bench with your legs and hips aligned to the length of the bath, unlike when using a standard bath board when your legs extend away from the bath. They have two feet inside the bath and two longer feet outside the bath, they also have a backrest. The feet are height adjustable.
You need to be able to lift your legs over the bath rim and slide your bottom over the middle of the bath independently or with the assistance of a carer. Most transfer benches have a handle to pull on for assistance when moving to the centre of the bath. Some models have a sliding seat which can make it easier to slide along the bench.